Founder

Posts: 87
Joined: Wed May 27, 2009 1:08 pm
Country: USA
City: California
Year: 2009
Colour: Silver
Model: SMT
I've a few mates with GS's that swear by them - literally having bought GS to GS over 10+ years. Anyone here owned a GS and now has an Adventure that can comment on the differences?
---
Moderator

Posts: 4742
Joined: Fri May 27, 2011 11:40 am
Country: Australia
City: Brisbane
Year: 2014
Never owned a BMW before.
---
Moderator

Posts: 437
Joined: Fri Aug 03, 2012 8:33 pm
Country: UK
City: UK
Year: 2014
Colour: White
Model: Adventure
I suppose it depends on what the requirements are i.e. weight etc. there are a few youtube vids for copmparison by all accounts the newer BMW seem to hold their own
---
Moderator

Posts: 1740
Joined: Mon Jan 16, 2012 6:46 pm
Country: UK
City: London
Year: 2011
Location: Twickenham
Contact:
Well, that's the Adventure subforum completed, might as well lock it down now.
ogden
S1000XR | YZF-R6
---
---
Moderator

Posts: 371
Joined: Tue Jul 30, 2013 11:12 pm
Country: England
City: Bath
Year: 2011
Colour: White
Location: Bath. UK
Contact:
r0bb0mc wrote:I've always wanted to buy a powerful and lightweight GS but they've never made one..
Yes they did!
---
I previously owed a r1150gs adv for several years, then saw the light and changed to a 990 adv. personally I would own another bmw again. Let a mate take my 990 out the other day, biggest grin I've seen on his face for a long time.
---
250cc

Posts: 48
Joined: Mon Mar 16, 2015 6:51 pm
Country: Scotland
City: Huntly
Year: 2009
Model: Adventure
I've recently just gone through this comparison - obviously the KTM won ( albiet old school 990) - reason i'm posting is because - once you ride them, look at them in detail etc.. - I don't see them as comparible - both manufacturer's take on what this type of bike should be = their differing aproach makes you ask yourself the decent questions - what is it I want and why ?
once you work this out - then there's no real choice - its either BMW or KTM ( or any of the other brand names that produce simliar styles)
My logic was
Do I want a great tarmac mile cruncher thats a very good back road toy - that does most thing right - looks quirkie and has about as much vavavavoom as a dyson hoover = buy the BMW
Do I want a reasonable mile cruncher - that I can feel good about going offroad ( check out the lack of sticky out bits that can break) - thats a wee bit rough around the ears - also looks quirkie, but has a feel to it that says - build by humans = buy the KTM - ps its also got a chain
---
675cc

Posts: 299
Joined: Thu Jul 29, 2010 10:58 am
Country: South Africa
City: Jo'burg
Year: 2010
I used to have a 2008 BMW R1200 GS.
The best day of my biking life was the day I sold it in 2010, At the time I sold it to buy the SMT, but i now also own a KTM 1190 Adv, bought in April 2013 and IMO, depending on what your intended use of the bike is, the BMW will never on its best day be a match for the KTM1190 Adv.

Ive ridden 1000's of km off road around Southern Africa on the KTM1190 Adv and it is totally awesome, and, I once did 250km off road in Zimbabwe with the GS and I wanted to sell it as soon as we hit the sealed road. It was downright scary, it just doesn't go where you tell it to.

I still fancy the idea of fitting a set of TKC80 knobblies to my SMT990, cos i think it would be more fun offroad than the 1190 Adv
I used to ride normal until I got "oranged" ~ KTM SMT

Currently in the garage
2013 KTM 1190 Adv
2012 MV Agusta Brutale 920
2011 Ducati Multistrada 1200
2010 KTM 990 SMT
1981 Kawasaki Z1000 ELR
1980 Honda CB900F
---
500cc

Posts: 159
Joined: Sat Nov 09, 2013 8:14 am
Country: Australia
City: Kenthurst
Year: 2015
Colour: Black & Orange
Model: Adventure
Ive owned a fair wack of bikes and in the last 35 years and in the last 5-10 years a few BMW's, GS and GSA most recently.
Great bikes in their own right BUT since changing over to KTM, 950 Abventure and 990 SMT and now just an 2012 Adventure R (990) all I can say is that KTM's just make me smile and get me through the crap that the BMW probably would not without me falling off!
If you dont venture much beyond gravel roads and want to tour the country mostly by bitumen, then the BMW's are awesome, comfortable and economical but boring. Their girth is just too much for me and their small wheels make them difficult on dirt.
You can happily do the same above on the KTM Adventure but when things turn to crap and you do mostly "long distance scenic dirt touring" as I do, then the KTM is in a league of its own.
You always come out the end thinking "wow, Im glad I was on the KTM"
I predominantly do long distance dirt touring and here in OZ, you can go for days and days without seeing tar. I specifically avoid as much tar as possible at all times.
Nothing stacks up to the KTM Adventures in those conditions.
Speaking of comfort, some people hate them but I think the KTM is the most comfortable Ive ever ridden but everyone's arse is different I guess.
With the Safari tank, I fill up in the morning and dont have to stop for the next 600 klms till the end of the day.
With the aid of some of Kevs modified tunes (thanks again Kev), she runs sweet as a nut and is smooth as
And although more highly strung and needing more looking after, there is nothing on the market that could take its place or make me feel better at the end of the day.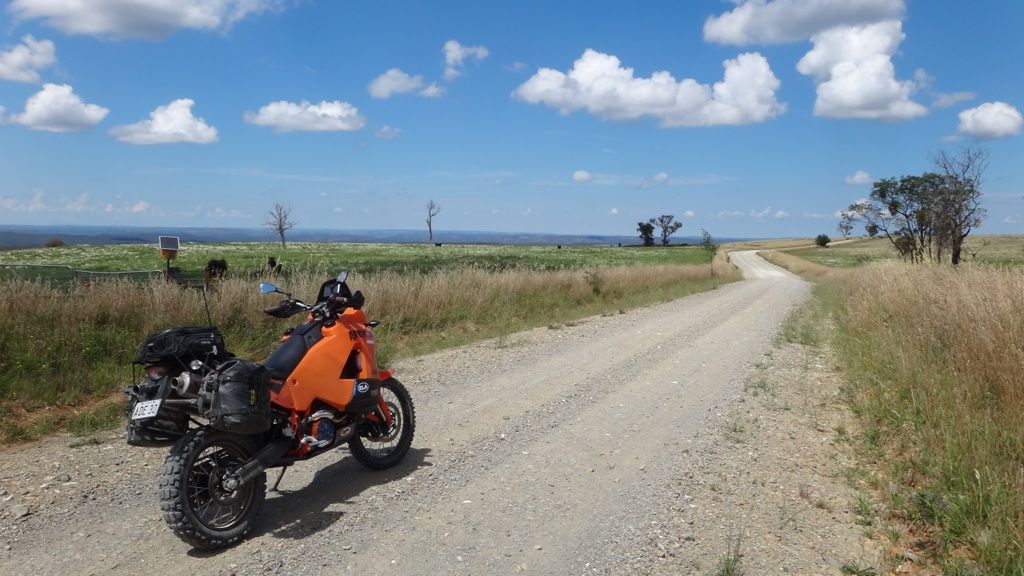 ---